| | |
| --- | --- |
| qualitas1998.net News Inivted lecture of Mario Pagliaro at 11th meeting Probiotics, Prebiotics and New Foods, Nutraceuticals and Botanicals for Nutrition and Human and Microbiota Health | |
Invited lecture at 11th Probiotics, Prebiotics and New Foods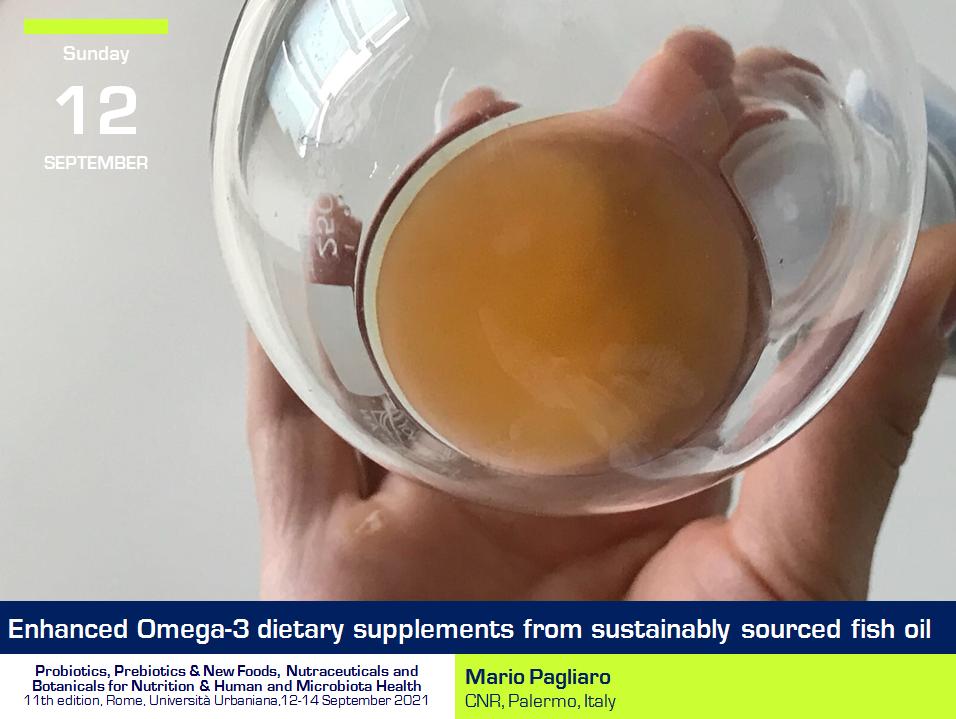 12-Sept-2021 - Mario Pagliaro has given today an invited lecture at 11th meeting Probiotics, Prebiotics and New Foods, Nutraceuticals and Botanicals for Nutrition & Human and Microbiota Health held at Rome's Pontificia Università Urbaniana from September 12 to 14.
Entitled "Enhanced Omega-3 dietary supplements from sustainably sourced fish oil", the lecture started outlining the problem with today's omega-3 dietary supplements, solved by new circular approaches to fish oil production, including that developed by Dr Pagliaro's research Group using biobased limonene to extract a new category of whole fish oil from fishery biowaste rather than from fish.

Attended by nearly 600 participants, besides the invited lectures, the Conference programme included numerous oral and poster presentations in widely different fields of microbiota and new food research.
Dr Pagliaro concluded his lecture showing the first experimental evidence that whole fish oil extracted from anchovy leftovers, dubbed AnchoisOil, via the new, circular process invented in Sicily provides a substantially more bioactive fish oil when compared to highly refined fish oil derived from fish used in most commercial omega-3 food supplements.
---
Go to Latest News