News

Mario Pagliaro's Scientific Achievements in Chemistry and Education. Silicon honours Mario Pagliaro publishing a long review of his activities in research and education (download the PDF).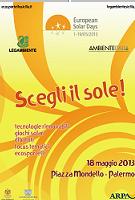 European Solar Days. Il 18 maggio l'incontro pubblico fra Mario Pagliaro, Giorgio Cappello, Mimmo Fontana e Maurizio Pirillo sull'energia solare in Sicilia (guarda la photogallery).
SuNEC 2013. Registration now open for one of Europe's premiere meetings in solar energy.
Hybrid Materials. Nanoscale themed collection to be published in 2014, guest edited by Mario Pagliaro and Jean-Marie Nedelec (submission within 29-Nov-2013).
FineCat 2014. The Symposium on heterogeneous catalysis for fine chemicals, 9-10 April 2014 (read the Report of the splendid 2013 Symposium, celebrated also by Catalysis Science & Technology).
Sicily's Solar Report 2013. Il report annuale sull'energia solare in Sicilia (guarda il servizio di Blogsicilia.it; e leggi l'inchiesta di Repubblica Palermo).
Energy manager. Il primo libro in italiano che spiega come portare efficienza energetica ed energia solare all'interno di imprese ed enti pubblici.
News Archive
Latest news Archive - 1997/today
Stampa/Press
Info per la stampa

Un servizio della RAI | E un'intervista

Polo Fotovoltaico della Sicilia
The Pole | Il Polo

Solare, Dal cuore della Sicilia le nuove tecnologie. Il servizio del Tg2 delle 13:00 del 30 aprile (

vai al min 24.44

).

V. anche Il Seminario «L'energia solare per il futuro della Sicilia» il 18 maggio 2011 alla Camera dei Deputati.

Tg2-Dossier. Il

16 giugno il

reportage "Italia rinnovabile" girato in gran parte in Sicilia (

vai al minuto 16:30

).