News

SuNEC 2014. In Sicily, September 8 through 9, one of Europe's premiere meetings in solar energy. Followed by the SuNEC Summer School.
Solar power in Quebec: a unique potential soon to be fulfilled. "This is a great article that deserves to be studied in depth" - Ranjit Koodali.
Green chemistry in fine chemistry & pharmaceuticals. The article in Speciality Chemicals Magazine April online version.
FineCat 2014. The splendid Symposium on heterogeneous catalysis for fine chemicals with David Cole-Hamilton, Serge Kaliaguine, Paolo Fornasiero and Jose Antonio Lopez-Sanchez (watch the photo and video gallery).
Hybrid Materials. Nanoscale themed collection to be published in 2014, guest edited by Mario Pagliaro and Jean-Marie Nedelec.
Microencapsulated Fragrances for Sustainable Odorant Products. New open Research Topic in Frontiers in Chemistry.
Fotovoltaico non incentivato, la Sicilia mostra la strada. L'intervista di Qualenergia.it
a Mario Pagliaro.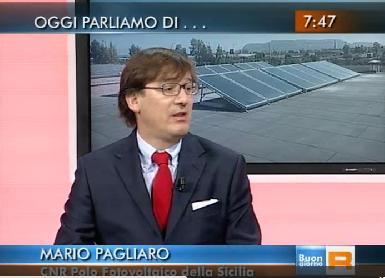 Sicily's Solar Report 2014. L'intervento di Mario Pagliaro a Buongiorno Regione il 12 marzo (vai al min 16:21).
Pannolini, cosmetici e vernici? Meglio dal sole che dal petrolio. L'articolo di Mario Pagliaro su Europa.
Doctoral Commission. Ecole Centrale de Lille's PhD student Cyrille Guillon promoted Docteur by the international Commission including Rosaria Ciriminna, Pedro Maireles Torres and Mario Pagliaro.
Energy manager: Intervista a Mario Pagliaro. In programmazione sulle Tv locali siciliane l'intervista di LiveSicilia.tv sul tema degli Energy manager nella PA.
Advisory Board of ChemSocRev. Mario Pagliaro joins the Board of the 2nd most prestigious chemistry journal in the world.
News Archive
Latest news Archive - 1997/today
Polo Fotovoltaico della Sicilia
The Pole | Il Polo

Senza ricerca niente rivoluzione del sole. L'analisi di Mario Pagliaro su

Europa

.



Solare, Dal cuore della Sicilia le nuove tecnologie. Il servizio del Tg2 delle 13:00 del 30 aprile 2012 (

vai al min 24.44

).

V. anche Il Seminario L'energia solare per il futuro della Sicilia svoltosi alla Camera il 18 maggio 2011.

Tg2-Dossier. Il

16 giugno il

reportage "Italia rinnovabile" girato in gran parte in Sicilia (

vai al min 16.30

).