Conferences and Schools
FineCat 2016. Leading catalysis meeting in Sicily with Valentine Ananikov, Babak Karimi and Bert Sels

SuNEC 2016. Europe's premiere meeting in solar energy with Percival Zhang, Wouter Maes, and Henning Döscher.

Polo Solare della Sicilia

In Sicilia ricerca e formazione si rinnovano. Il servizio della WebTv del CNR.

Research and Educational activity

Mario Pagliaro's Lab - Educational work
Mario Pagliaro

Biography (Biografia) - Articles - Books - Newsletter (2000-2013)

Editoriali
> Tutti gli editoriali



Contact

: mario.pagliaro[at]cnr.it -

Twitter

:

@Helionomics




Mail to

: Dr M Pagliaro, FRSC - CNR, via U. La Malfa 153, 90146 Palermo PA (Italy)
News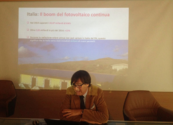 Sicily's Solar Report 2016. Eco nazionale per la V edizione del Report presentata a Palermo (

Milano Finanza

,

La Sicilia

,

Agi

).

Rethinking solar energy education. Landmark paper on the

Solar Master

course for an international audience.

LED street lighting.

Green

publishes milestone paper on critical sustainable technology (

articolo su Qualenergia

).

Guidelines for Integrating Solar Energy in Sicily's Buildings

. Green

publishes landmark paper.



Il Sud vola

. Presentato in Unipa il libro di Alessandro Cacciato (

guarda la photogallery

).

CO2 photoreduction on the route to solar fuels. Milestone article on the sunlight-driven reduction of carbon dioxide.

Reviewer for the Israel Science Foundation. Leading scientific institution appoints Mario Pagliaro.

Italy's CNR researcher reaches citations record. More than 1,055 citations.

Advancing nanochemistry education. Study in

Chem. Eur. J.

on new undergraduate course aimed to educate future nanoscale science scholars.

> News Archive/Ultimissime