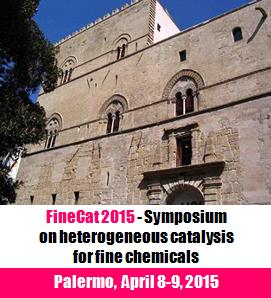 What
: FineCat 2015 - Symposium on heterogeneous catalysis for fine chemicals
When
:
8-9 April
2015
Where
: Palermo, Palazzo Steri
How
: Download and send the
Registration form
(Word) via email only
Deadline for Abstract
:
31-Jan-2015
Jointly organised by the Institute of Nanostructured Materials of Italy's Research Council (CNR) and by Palermo's University DEIM Department, the meeting -- whose idea was born out of the 2011 themed issue of
Catalysis Science & Technology
"
Heterogeneous catalysis for fine chemicals
" dedicated to Prof. Michele Rossi -- aims to provide an opportunity for contact between academic and industrial researchers, manufacturers and users of solid catalysts for the efficient and selective production of fine chemicals.
Eminent speakers at FineCat 2015 include Professors Manfred Reetz, Irina Beletskaya, Pedro Maireles Torres, Oliver Kappe and Rodrigo de Souza.
The scientific level of this Symposium is testified by the previous speakers at the
2014
,
2013
and
2012
editions of the meeting: David Cole-Hamilton, Paolo Fornasiero, Jose Antonio Lopez-Sanchez, Serge Kaliaguine, Graham Hutchings, Gadi Rothenberg, Claudio Banchini and Tyler McQuade.
Call for Oral and Poster presentation
A Call for Oral and Poster presentation at FineCat 2015, within one of the Symposium themes is now open:
• Green catalytic processes
• Organo- and biocatalysis
• Photocatalysis for organic synthesis
• Asymmetric heterogeneous catalysis
• Atom economy and clean technology
• Green reaction media
• Catalysis under flow conditions
Please use the
Abstract template
only (Word) to produce the
formatted one-page
Abstract.
Send the Abstract
in Word format (and not PDF) via email only before the Symposium deadline for Abstract submission (
31-Dec-2014
). Address your Abstract now to Dr R. Ciriminna (
rosaria.ciriminna@cnr.it
).
Plenary Lectures
Manfred Reetz
:
Directed Evolution of Enantioselective Enzymes: A Prolific Source of Catalysts for Asymmetric Reactions

PL-1
External emeritus group leader of the Mülheim Max-Planck-Institute, Hans-Meerwein-Research-Professor, Marburg University, Germany
Irina Beletskaya
:
Asymmetric Reactions Catalyzed by Immobilized Broensted and Lewis Acids
PL-2
Russian Academy of the Sciences, M. V. Lomonosov Moscow State University, Chemistry Department, Moscow, Russia
Oliver Kappe
:
Towards the Synthesis of APIs in Continuous Flow Mode
PL-3
Institute of Chemistry, University of Graz, Austria
Pedro J. Maireles Torres
:
Heterogeneous Catalysis for the Oleochemical Platform
PL-4
Department of Inorganic Chemistry, University of Malaga, Spain
Rodrigo de Souza
:
Medecines for All: A Brazilian Perspective
PL-5
Institute of Chemistry, Federal University of Rio de Janeiro, Brazil
Temporary Scientific Program
The lectures below, comprising the temporary program, are published as new Abstract are received, reviewed and approved.
The list includes only the presenting Author. The indexed Book of Abstract -- that will published as
eBook
available on all main bookstores online -- will obviously include all Authors and affiliations (OP = Oral Presentation; PO = Poster Presentation).
Sébastien Paul

:
Realcat: An Advanced High-Throughput Platform Dedicated to Biorefineries Catalysts Design
OP-1
Unité de Catalyse et de Chimie du Solide, Ecole Centrale de Lille, France
Päivi Mäki-Arvela
:
Catalytic Synthesis of Dioxinol Formed by Addition of a Monoterpenoid, Verbenol Oxide, with Benzaldehydes over Metal Modified Zeolites
OP-2
Process Chemistry Centre, Åbo Akademi University, Turku/Åbo, Finland
Damien Debecker
:
Original Sol-Gel Strategies for Succesful Catalyst Preparation: From Bulk Petrochemistry to Green Chiral Synthesis
OP-3
Institute of Condensed Matter and Nanoscience –Molecules, Solids and Reactivity (IMCN/MOST), Université catholique de Louvain, Louvain-La-Neuve, Belgium
Babak Karimi
:
Supported N-Oxide Catalyst onto Ordered Mesoporous Structures for Green Oxidation of Alcohols: From Chemical to Electrochemical Approach
OP-4
Department of Chemistry, Institute for Advanced Studies in Basic Sciences, Gava Zang, Zanjaan, Iran
Aigerim Tasmagambetova
:
Catalytic Alkylation of C2-C4 Hydrocarbons
OP-5
Kazakh-British Technical University, Almaty, Kazakhstan
Giovanni Palmisano
:
N-doped anatase/rutile for the photocatalytic synthesis of aromatic aldehydes under ultraviolet and solar light
OP-6
Masdar Institute of Science and Technology, Chemistry Department, nstitute Center for Water and Environment, United Arab Emirates
Luigi Da Vià
:
Selective Photocatalytic Oxidation of Glucose to Value-Added Products with Ttania-supported Gold and Silver Nanoparticles under Visible Light
OP-7
Stephenson Institute for Renewable Energy, Chemistry Department, University of Liverpool, UK
Francesco Parrino
:
Photocatalytic Isomerization of Caffeic Acid and its Cyclization to Esculeting
OP-8
"Schiavello-Grillone" Photocatalysis Group, DEIM, University of Palermo, Italy
Alberto De Riccardis
:
Phtalocyanine/TiO2 and Porphyrin/TiO2 Photocatalysts Used in Processes Under Mild Conditions
OP-9
Department of Engineering for Innovation, University of Salento, Lecce, Italy
Chiara Deiana
:
Production of Dibutyl Carbonate by Iinsertion of CO2 in Titanium(IV) Butoxide
OP-10
Department of Chemistry and Centre for ''Nanostructured Interfaces and Surfaces-NIS'', University of Torino, Italy
L. Selva Roselin
:
Selective photocatalytic oxidation of glucose to value-added products with titania-supported gold and silver nanoparticles under visible light
PO-1
Department of Chemistry, Periyar Maniammai University, Vallam, Tanjore, India
Book of Abstracts
An ISBN-indexed Book of Abstracts of accepted contributions will be produced and handed out at the conference.
The Book will be published as
eBook
and will be made available via all main bookstores online.
Publishing Partner and Poster Prizes


Delegates are encouraged to submit their work to
Catalysis Science & Technology
-- the flagship catalysis journal of RSC Publishing -- right after the meeting's closure.
All articles will be subject to rigorous
peer-review
according to the journal's usual standards. If accepted, manuscripts will be published with a footnote mentioning the FineCat Symposium.
The Journal offers two poster
prizes
(RSC books and certificates) to the Authors of the two best posters.
Research Context
Research in heterogeneous catalysis for fine chemicals synthesis, preparative chemistry and drugs discovery, is flourishing; as heterogeneous catalysis emerges as the valuable tool in making the fine chemicals industry environmentally and economically more sustainable.
Fine chemicals -- polyfunctional molecules with specific properties imparting them high added value -- indeed, in most cases are in synthesized via highly selective homogeneous synthetic methods, most of which were stoichiometric, and not catalytic.
Ten years after the
highlight paper
in
Science
of Cole-Hamilton in which David lamented that no heterogenized homogeneous catalysts was known to have found practical application,
OPRD
reports a number of
new industrial processes
that use efficient and highly selective solid mediators.
New solid catalysts can not only be easily separated, recovered, and recycled; but also effectively applied to continuous chemical syntheses carried out under flo, thereby opening the route to clean, efficient chemical synthesis both on the lab and on industrial scale.
In the meanwhile, too,
biomass
feedstock -- glycerol from biodiesel and fatty alcohols, for example -- is emerging to replace raw materials of petrochemical origin, thereby closing the materials cycle that makes processes truly sustainable.
Research presented at FineCat 2015 will hopefully further
advance
this progress.
Accommodation
The Organizing Committee has partnered with several four- and three-star Hotels offering special rates to the Conference delegates, all located in the nearby of the splendid
Palazzo Steri
: The conference venue in the hearth of Palermo (in red the walking distance). To reserve your rooom, please contact directly one of the preferred Hotel:
Weather
Usually weather in Palermo in early April is sunny with temperature around 20°C. Check personally the weather
forecast
.
How to get to Palermo from the Airport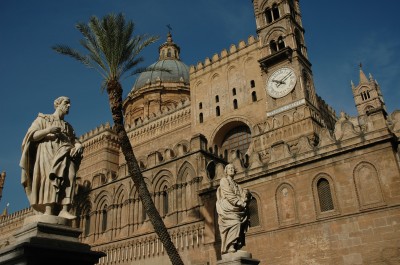 The most comfortale way to reach the city from the airport is to order via e-mail a dedicated taxi service (25 Eur each run, independent of the passengers number) to
Spada Transfer in Sicily
.
If you wish to use this service, prior to your departure reserve your car by email at:
spadatransferinsicily@hotmail.it.
The transfer time from Palermo'
"Falcone e Borsellino" airport
to the city center takes about 40 minutes. Please note that this is an estimated transfer time and does not take into account traffic and road conditions.
Cheaper ways to reach out the city are below:


Bus (to Palermo)
Prestia & Comandé, Frequency: every half hour (4.00 am-11.00 pm) One way ticket: € 6.10 Phone: 091 586 351
Train (to Palermo)
: Trinacria Express Train, Frequency: every half hour (4.45 am-12.40 pm) One way ticket: € 5,50 Phone: 091 704 40 07.
Registration of Delegates and Conference Venue
To reach out Palazzo Steri, just head on foot to
Piazza Marina 61
.
The Conference hall, the Sala delle Capriate is located at the 3rd floor of this 12th century Palace. Just enter the building. Take the elevator, and exit turning to your left hand side. The Conference desk is located at the entrance of the Sala delle Capriate.

Conference Delegates are kindly encouraged to register at the Conference desk already on the afternoon of April 7th (between h 15:00 and 16:30).
Accompanying persons willing to take part into the Social Program will need to register at the Conference desk.
During both Symposium days the Conference desk will remain open between 8:00 am and 12:00 pm.
Instructions for Poster Presentation
Posters should be 1.20 m high and 0.90 m wide. On printing your poster, please do not exceed the 1.2 m lenght in order to not incur in fitting problems when mounting your poster.
Compact posters printed on one large sheet of paper is highly recommended.
The poster boards will be numbered according to the program.
Authors are kindly requested to mount their poster on the day for which they are accepted between 8:30 and 9:00 in the morning; and to be in front of their poster during the official session time. Suitable adhesives (not damaging the poster) will be available next to the poster boards mounted on stands.
Social Program and Accompanying Persons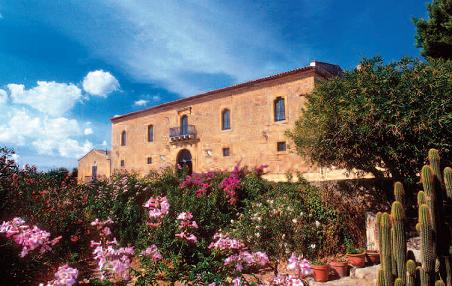 At the end of the 1st day Symposium session, April 8th, the Rectorate will offer a guided tour of the splendid Palazzo Steri.
On the afternoon of April 9th, the Social program will start at 17:00 from Piazza Marina, in front of Palazzo Steri.
In about 2 h a bus will then reach Regaleali namely the heart of the
Tasca d'Almerita
family's wine production.
There, following a guided tour of the winemakery, a Sicilian dinner will be offered in the wonderful Resort.
Accompanying persons willing to take part into the social Program should register at the Conference desk.
Sicily and Palermo
Sicily was voted "the best destination in the world" in 2009 and second "best island" in 2010 by readers of Condé Nast
Traveller
. The largest island in the Mediterranean, and
largest
region in Italy,
Sicily is packed with things to see
and places to go, so you shouldn't expect to "do" it all in one go. The island has 5 million inhabitants and hosts an enormously varied and important cultural heritage. Palermo is a 2,700 years old city with about 600,000 inhabitants. Entirely built in front of the sea, it has gone through Phoenician, Roman, Arab, Norman, German, Spanish, French and Italian domination which resulted in a unique mix of cultures well reflected by the magnificent cultural heritage of the city.
Testifying to this are the different urban strata that have changed the face of the city over the centuries. The city's name derives from the Greek and means "all port", to indicate the width of the approach and the importance of this trading post. In fact, Palermo was founded by the Phoenicians, probably in the eighth century BC. Fortified and surrounded by defensive walls, in the fifth century BC it became the most important Carthaginian stronghold on the island.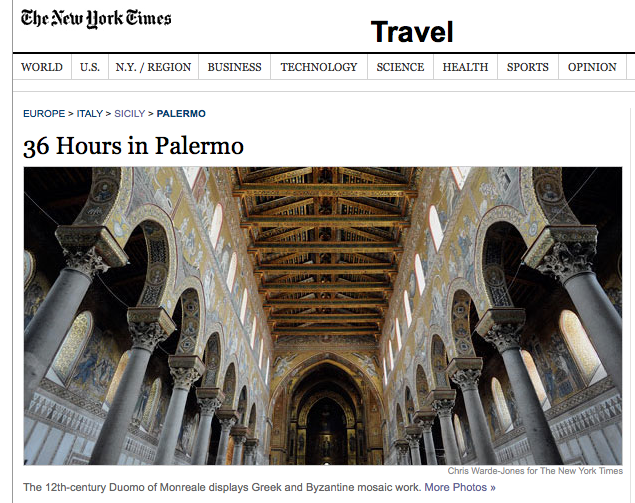 After the Roman conquest, the barbarian invasions and Byzantine domination, then under the Arabs, who arrived in 831, Palermo became the capital of the autonomous emirate of Sicily and one of the busiest emporia of the Mediterranean. In the successive Norman period, the work of Byzantine, Arab and Latin craftsmen again transformed the architectural and urban fabric of the centre and the whole province, as the beautiful Palatine chapel and the Monreale cathedral testify. Finally, between the sixteenth and seventeenth century a new period of reconstruction occurred, that enriched the churches, palaces and monuments.
«The essential charms of this mysterious and intoxicating city -- has written has written Ariel Forman in The New York Times -- thankfully remain intact.
«The current face of this modern metropolis of the South is that of a mighty and mysterious city, enclosed in the labyrinth of Arabian lanes, in the magnificence of palaces and sanctuaries, in art treasures, in the charm of natural scenery, and in the unchanging values of ancient craft and food tradition».
Language
The official language of the conference will be English. No simultaneous translation will be provided.
Passport and Visas
All non-residents of the EU are required to have a
valid passport
.
Participants should check regarding visa requirements for travel to Italy. Applications should be made to the nearest Italian Embassy or Consulate
as soon as possible
. Citizens of member states of the European Union and the USA do
not
need visas.
Insurance and Liability
Participants are advised to arrange whatever insurance they consider necessary.
No responsibility
can be assumed by the Congress for personal accidents, sickness, theft, or property damage suffered by the participants.
Electricity
The electrical current is 220 volts, 50 Hz.
Banking
Bank hours are Monday - Friday 8:30 - 13:30 and 15:45 - 16:30. Bank are closed on Saturdays and Sundays.
Currency
Since the beginning of 2002 the
Euro
is the official currency in Italy.
1 Euro = 100 Cents.
Coins: 1, 2, 5, 10, 20, 50 Cents; 1, 2 Euros
Banknotes: 5, 10, 20, 50, 100, 200, 500 Euros.
The Euro is usually abbreviated as EUR. The symbol of the Euro is €;.
Money can be changed at the airport, at banks, exchange bureaus, and larger hotels. For a cash advance, credit cards and Maestro-cards can be used at cash dispensers (Bancomat) which are available all over the city.
Shopping
Typical shopping hours are Monday to Saturday 9:00 - 13:00 and 16:30 - 20:00. Apart from some tobacconists and small supermarkets at petrol stations and at the main railway stations, shops are closed on Sundays. Luxury shops with an elegant clientele can be found in city downtown (via Libertà, via Ruggiero Settimo and via Maqueda).
Further information
Dr M. Pagliaro (
mario.pagliaro@cnr.it
) - Prof. L. Palmisano (
leonardo.palmisano@unipa.it
)