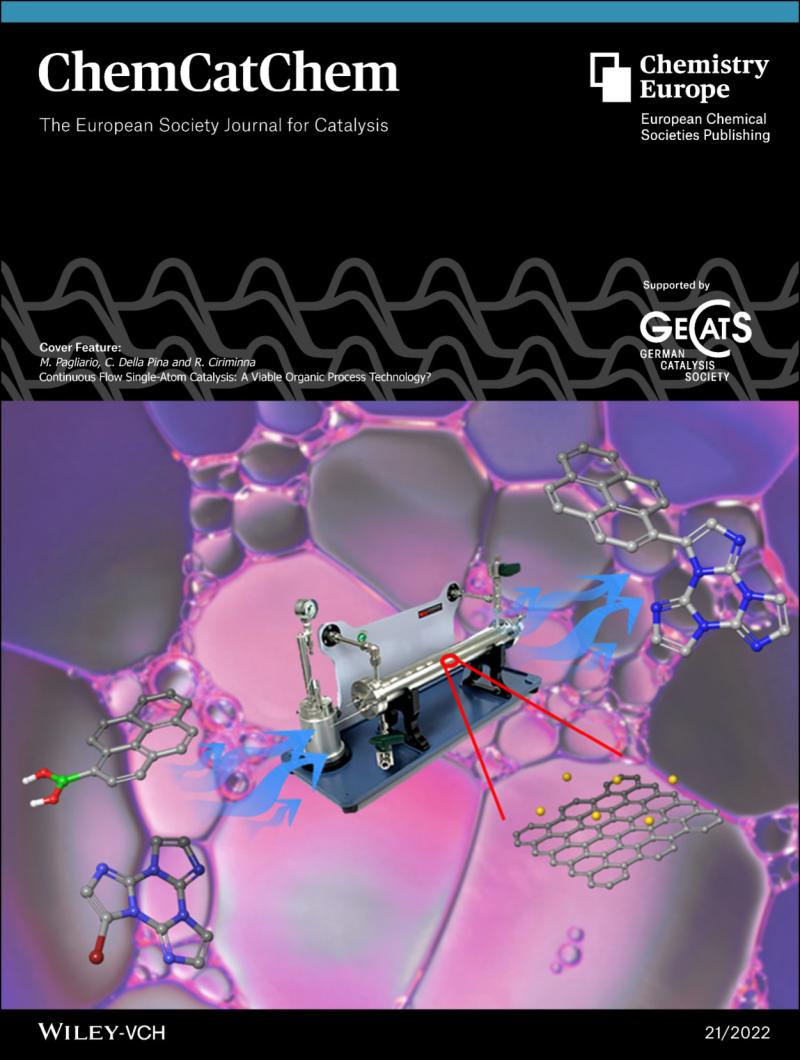 20-Oct-2022
- Joint
perspective paper
co-authored by Rosaria Ciriminna, Cristina Della Pina and Mario Pagliaro was first recognized by its reviewers as a
Very Important Paper
and then given the cover of
ChemCatChem
, a catalysis journal published by Wiley-VCH on behalf of Chemistry Europe, the association of national chemical societies in Europe.
Having been published as open access (OA) article, the study is freely and openly accessible to anyone.
The Cover Feature shows a flow reactor employing a single-atom catalyst schematically represented.
In their Perspective, the scholars try to answer the question: "Is single-atom catalysis under continuous flow conditions a technically and economically viable organic process technology?"
Early results actually suggest valuable insight en route to its industrial uptake in the production of fine and specialty chemicals.
Reviewing selected examples of the first utilization of single-atom catalysts (SACs) under continuous-flow conditions, the team provides evidence that SACs are not different from state-of-the-art supported metal nanoparticle catalysts in affording significantly higher TOFs than the same catalysts in batch reactor conversions.
Furthermore, continuous flow conditions enhance the lot-to-lot consistency and dramatically lowers production time thug improving customer delivery.

Renown research chemist and student educator, mentor of numerous young researchers from Italy and abroad, Rosaria Ciriminna is one of Italy's most impactful chemistry scholars. Recently, for the third year in a row she was included in the ranking of the world's 2% most influential scientists based on the c-score.
Associate professor of chemistry at Milano's University, Cristina Della Pina leads a highly active research team in the fields of green and materials chemistry. In 2017 she was awarded one of the WIB European Businesswoman Awards as "Best Female Assistant Professor in Chemistry".
---