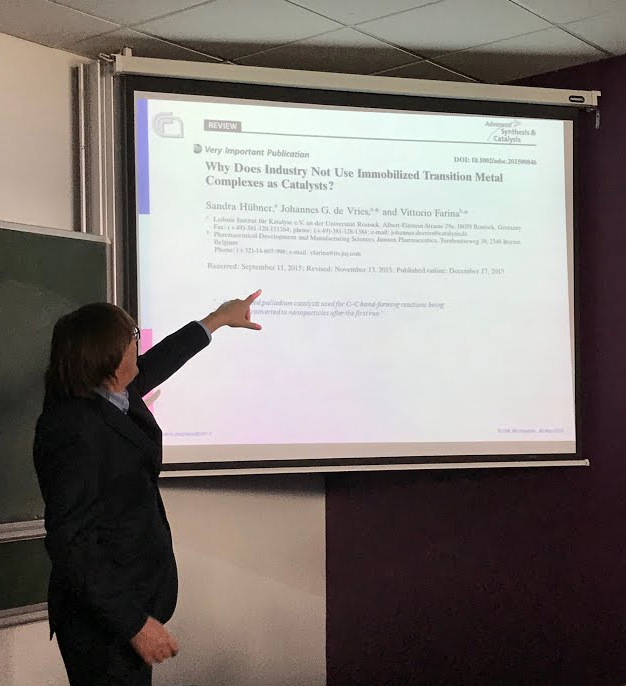 20-Mar-2018
-
Mario Pagliaro
has given today an
invited lecure
at
Institute Charles Gerhardt Montpellier
(
watch the photo and videoalbum
).
Held in nice hall of Montpellier's at Polytech, the lecture focused on sol-gel materials as key enablers of the forthcoming solar chemistry.
Dr Pagliaro showed how long sought-after
solar chemistry
-- namely the use of solar light to drive synthetic processes in the chemical industry as it happens with Nature's photosynthesis -- is eventually becoming an industrial
reality
, with several new visible-light photocatalytic processes eventually being adopted by industry, almost a century after the promising industrial debut, in 1943 in Germany, of the production of the anthelmintic drug ascaridole via solar irradiation of α-terpinene.
Dr Pagliaro further argumented how
transparent
photoactive sol-gel glasses will play an eminent role in this transition.
He briefly told the story of sol-gel photochemistry from of Avnir's team 1991
study
on the photochemical reactivity of molecules trapped in sol-gel glasses, through the new
SiliaSun
photocatalysts for synthetic organic chemistry and the
AquaSun
antifouling and foul-release paints.
Italy's scholar finished the lecture with three take-home messages:
Photochemistry within sol-gel glasses has remained

underdeveloped

for the last 25 years
Photocatalysis with sol-gel catalytic glasses

works and will be used

to make fine chemicals and APIs
Transparent sol-gel glasses are

uniquely suited

to mediate visible-light driven reactions under flow using efficient LED light sources
The lecture gathered students, researchers and professors of both the Institute and Montpellier University at whose
large campus
the ICGM is located. A lively Q&A
session
ended the lecture.
The lecturer had been invited by Dr. Hubert Mutin, a well known sol-gel material scientist based at the ICGM.