Silica-Based Materials for Advanced Chemical Applications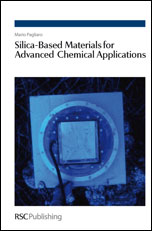 Book by Mario Pagliaro
RSC Publishing, Cambridge, 2009
ISBN: 978-1-84755-898-5
Extent: 208 pages
Format: Hardback and eBook

The review of Benedicte Lebeau in Angewandte Chemie International Edition
"The first chapter is a fine review in its own right and it is inspiring to read..."

The review of Stephen Clarson in Silicon:
"As a University educator, I can see this book being useful as reading material" "...there are many nuggets of information that are useful both to the silicon scientist and also to the materials chemist and even to the entrepreneur."
The book addresses one of the hottest topic in chemistry, namely functionalized silica gels. Originally mainly used in chromatography, specialized silica gels have evolved into crucially important functional nanomaterials suitable for application to chemical synthesis, analysis, purification, surface protection, drug release and many other advanced applications.
Readers will benefit from the use of a clear, coincise style resulting in a consistent treatment of the topic, in which the physical and chemical properties of silica gels are shown to originate the numerous applications.
The book demonstrates how chemists synthesize, from the bottom-up, tailor-made (nano)materials of immense practical importance spanning the fields of chemistry, physics, materials science, engineering, biology and medicine.
An updated outlook on new commercial products, and the companies which make them, greatly adds relevance and practical value to the text.
Table of Contents
Preface

Functionalized Silicas: The Principles

Functionalized Silicas
The Nature of the Sol-Gel Entrapment
The Nature of the Sol-Gel Cage
Tuning Dopant's Chemical Reactivity
Tailored Structures through Control of the Sol-Gel Process
From Disordered to Ordered Structures
Electrochemistry at the Silica Sol-Gel Cage
Imprinting the Sol-Gel Cage
References

Controlled Release

Sol-Gel Microencapsulation
Soluble Silica for Enhanced Release of APIs
Silica Microoparticles for Controlled Release
Therapeutic Films
Controlled Release of Enzymes
Controlled DNA Delivery
References

Purification and Synthesis

Size Control, Shape and Purity for Enhanced Separation
Scavenging with Functionalized Silicas
Silica-Entrapped Reactants
References

Coatings

ORMOSIL-Based Coatings
Sol-Gel Optical Coatings
Antifouling Coatings
Anticorrosion Coatings
Scratch-Resistant and Antiaging Coatings
Decorative Coatings and Barrier Systems
References

Catalysis

Catalysis by Sol-Gels: An Advanced Technology for Organic Chemistry
Sol-Gel Entrapped Catalysts: Tailored Catalytic Materials
Physically Entrapped Catalysts
Chemically Entrapped Catalysts
Biocatalysis
Commercial Catalysts and Forthcoming Applications
References

Sensing

Optical Sol-Gel Sensors: Analytical Technology of the Future
Array Sensors
Templated Xerogels as Selective Chemical Sensors
Forthcoming Sensors
References

Hybrid Silica-Based Composites

Hybrid Polymer/Silica Composites
New Aqueous Sol–Gel Route to Hybrid Silicas
Hybrid Silica/Polymer Aerogels
Polyethylene@Silica
References

Strategic Aspects of Sol-Gel Functional Silicas

On the Value of Sol-Gel Hybrid Materials
Market Trends
Insight into Sol-Gel Nanotechnology
Sustainability Aspects of Sol-Gel Materials
References

Index
---
Back to the Books Index