International PhD evaluation report delivered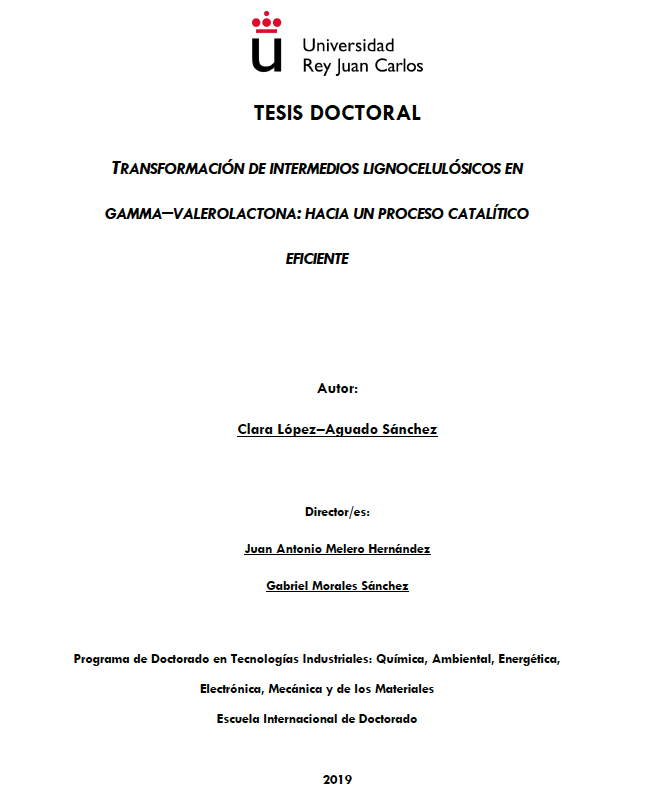 12-Mar-2019 - Mario Pagliaro has delivered today the external evaluation on the Thesis entitled "Understanding the Roles of Catalysts and Process Conditions in the Transformation of Lignocellulose Intermediates into γ-Valerolactone" shortly to be defended by Clara López-Aguado at Unversidad Rey Juan Carlos.
Report for a non Spanish doctor is compulsory to apply for the International Doctorate Award and Dr Pagliaro has been proposed "due to outstanding experience in the field of biomass valorization".
Part of an overall project dealing with the valorization of biomass towards biofuels and bioproducts, the Thesis has been jointly supervised by Dr. Gabriel Morales and Professor Juan Antonio Melero Hernández, chair of chemical engineering and vice Rector for ice-Rector for Innovation, Scientific Quality, and Research Infrastructures at Madrid's Universidad Rey Juan Carlos.
In 397 pages, including a 55 page extensive Summary in English, the Thesis of the candidate reports the outcomes of excellent work focusing on the direct transformation in one-pot of simple sugars such as xylose or glucose or valued platform molecule derivatives such as furfural and levulinic acid into γ–valerolactone (GVL) through a single reaction over bifunctional Zr– and Al–containing zeolites encompassing both Brønsted and Lewis acid functionalities.

Besides being renewable, GVL is a truly versatile precursor of numerous value-added chemicals.

The research work of the candidate has led to five scientific articles, three of which already published.
---
Go to Latest News