| | |
| --- | --- |
| qualitas1998.net News Critical disciplines to meet the ambitious goal of featuring among the world's most innovative countries by 2021 | |
Bioeconomy and solar energy key to 2021 UAE ambitious goals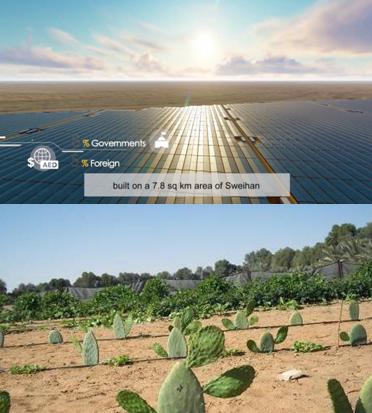 Mario Pagliaro
25-Jun-2018 - As construction of the world's largest photovoltaic plant -- Noor Abu Dhabi solar park that will generate 1,177 megawatts by mid 2019 -- smoothly advances in Suwaihan, 120 km south-east of Abu Dhabi, there is another sector complementary to clean solar energy in which the UAE will shortly excel: the bioeconomy.
Two examples illustrate the country's dramatic potential. The Emirates historically are home to a florid fishery with a diversified and abundant catch. The leftovers of fish, and of blue fish in particular, are a rich source of omega 3 polyunsaturated fatty acids.

Driven by the growing awareness regarding omega-3 health benefits, the fish oil global omega 3 supplements market, valued at $27.60 billion in 2016, is expected to reach $57 billion by 2025. Fish processing by-products are usually discarded as organic waste.
Yet, as shown by an extraction plant recently entered into service in northern Germany, they can be used as raw material for the production of high-quality omega 3 supplements.

Another example is Opuntia ficus-indica, a cactus plant widely diffused in the Middle East, harvested and appreciated also in the Emirates.
Beyond affording exquisite fruits (prickly pears) for human consumption, and stems (cladodes) containing >90% water used as excellent forage, the plant has lately become a source of valued ingredients increasingly used in nutraceutical, personal care and cosmetic products.
In Tunisia, for instance, some 800 farming companies supply barbary figs coming from 2,500 hectares to companies that extract the oil from the fruit's seeds. The oil is widely considered the best 'beauty oil' available today to cosmetic companies, and revenues of Tunisia's barbary fig seed oil exceed $80 million.
The area of tillable and cultivated lands in the UAE is already significant and will quickly grow as new irrigation practices are adopted and new desalination plants come on stream, creating a wealth of opportunities for a flourishing bioeconomy.
Since health, clean and renewable energy and water are three of the seven science-dependent sectors in which the Emirates plan to feature among the world's most innovative countries by 2021, the country's universities will find in the bioeconomy and solar energy two vital disciplines on which to focus new educational and research efforts.
The author is a leading solar energy and bioeconomy scholar based in Europe.

---
Go to Latest News