| | |
| --- | --- |
| qualitas1998.net News Dr Pagliaro amid the most highly prolific authors for ACS Sustainable Chemistry & Engineering | |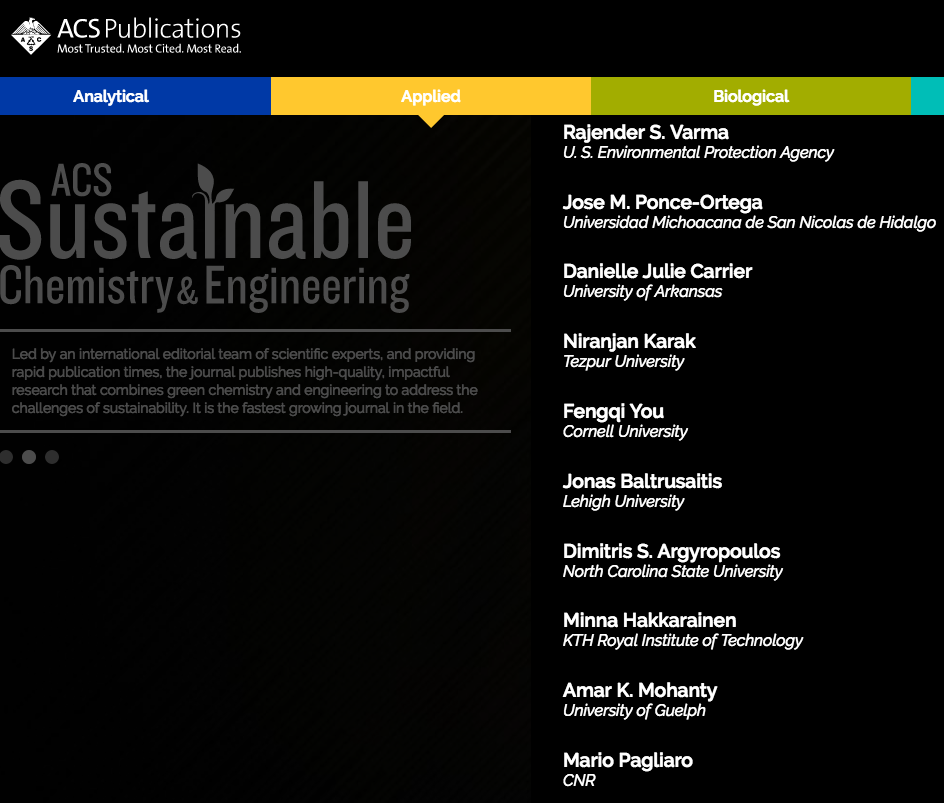 Mario Pagliaro Top Author in Sustainable Chemistry
Washington 18-Jul-2017 - Mario Pagliaro (Italy's Research Council) has been recognized as one of the most highly prolific authors for ACS Sustainable Chemistry & Engineering in the past 4 years, namely since the launch of the green chemistry journal of the American Chemical Society.

The other scientists are Rajender S. Varma (U.S. Environmental Protection Agency), Jose M. Ponce-Ortega (Universidad Michoacana de San Nicolas de Hidalgo), Danielle Julie Carrier (University of Arkansas), Niranjan Karak (Tezpur University), Fengqi You (Cornell University), Jonas Baltrusaitis (Lehigh University), Dimitris Argyropoulos (North Carolina State University), Minna Hakkarainen (KTH Royal Institute of Technology) and Amar Mohanty (University of Guelph).
"Being ranked with such eminent scientists -- says Dr Pagliaro -- provides another recognition to the outstanding work done by all the students and young researchers who have worked with us in recent years. Time is ripe for the foundation in Sicily of the new Institute of bioeconomy and solar energy of Italy's Research Council".
A chemistry and energy scholar based in Palermo, Italy, Mario Pagliaro leads a research Group focusing on nanochemistry, sustainability and the bioeconomy whose achievements include numerous important advances reported in over 180 research papers. Developed in co-operation with leading researchers based in 20 countries, including Israel, Canada, China, Portugal and the US, the research of his Group continuously appears in some of the leading journals in chemistry, energy and materials science.

He ranks amongst Italy's most cited scientists in nanotechnology and materials chemistry.

Launched in 2013 and ever since edited by Professor David Allen, ACS Sustainable Chemistry & Engineering publishes research aimed to improve the sustainability of the chemical enterprise based on the principles of green chemistry and green engineering, along with issues related to bringing greener processes and products to the marketplace.

The journal currently has impact factor exceeding 5.9, having gone from just over 200 papers published in 2013, to expected 1000 published manuscripts in 2017 on topics such as biomass-based fmaterials and fuels; catalysis and green manufacturing of chemicals; electrochemistry for chemicals production, energy storage, and conversion; use of wastes as raw materials; environmentally friendly solvents (including ionic liquids) and solvent-free processes; and nanoscale materials in the context of sustainability.

Since 2016, the journal honors the contributions of early career investigators from around the world who are doing exceptional research that impacts sustainability, green chemistry, or green engineering with the ACS Sustainable Chemistry & Engineering Lectureship Awards.

---
Go to Latest News