| | |
| --- | --- |
| qualitas1998.net News Invited lecture of Dr Pagliaro at Institute for Advanced Studies in Basic Sciences | |
Invited lecture at Institute for Advanced Studies in Basic Sciences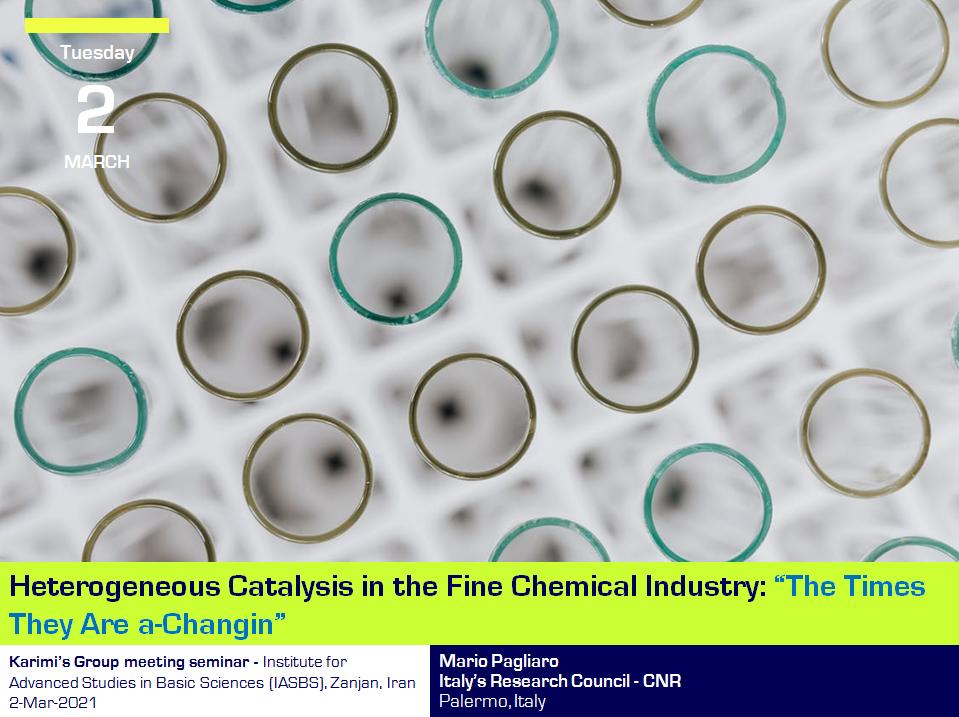 25-Feb-2021 - On March 2, 2021 (5:00 PM Tehran timezone) Dr Pagliaro will give an invited lecture to the Institute for Advanced Studies in Basic Sciences students and young researchers of Professor Babak Karimi's research team.

Entitled «Heterogeneous Catalysis in the Fine Chemical Industry: 'The Times They Are a-Changin'» the March 2nd seminar will include a 45-minute lecture followed by 15-30 min Q&A session. "Although I leave the subject of the speech to you", Professor Karimi wrote to Dr Pagliaro "my suggestion is that your talk be in one of the areas related to frontier challenges in green chemistry".
The seminar will be held online through the Institute's e-learning platform.
Iran is the world's 6th country for research in catalysis science and technology. Professor Karimi is amid world's leading catalysis scholars. Dr Pagliaro ranks in the top 2% World Ranking list of Scientists in all fields of science.
In 2018, their teams published the joint discovery of ZEmOEl (Zero Emission Oxidation Electrode), namely a catalytic electrode suitable for selectively oxidizing alcohols to carbonyl compounds -- a key process in the fine chemical industry -- using electricity only, with both high activity and pronounced catalyst stability required for practical application.
---
Go to Latest News