Energy and the circular economy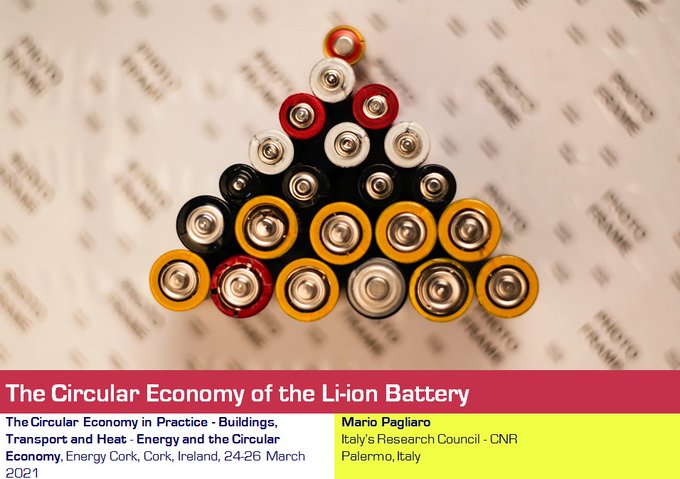 25-Mar-2021 - Mario Pagliaro gave today a presentation on the circular economy of the Li-ion battery at the international conference Energy and the circular economy organized by Energy Cork.

Moderated by Val Cummins, Director of Simply Blue Energy Kinsale, the session of the three-day conference was dedicated to the circular economy in practice, and saw also the presentations of Donna Gartland, chief executive officer of Codema, Niall Crosson, group technical manager of Ecological Building Systems, and Ciaran Gallagher, general manager of Smart Energy Services.

Hundreds of registrants attended the conference session held online.

"I've already gotten excellent feedback from attendees who were delighted with the breadth and depth of information and ideas on display" wrote Kieran Lattice to the the speakers right after the conference session. A recording of the session will be made available in the next few days on the website of Energy Cork.
Lots of questions for all the speakers during the Q&A session. Skills, targets, costs, standards, misinformation, recycling, applicability to Cork, and more.

Dr Pagliaro explained how 90% of Li-ion batteries are already reused and recycled worldwide, but that there is an "information crisis" in mass media and some scientific literature on this crucially important topic of the new energy technology landscape.

Supported by Cork City Council and Cork County Council, Energy Cork is an industry-driven cluster pursuing coordinated actions to strengthen enterprise and employment within the energy sector in Ireland's Cork region.
---
Go to Latest News