Nano-Age: How Nanotechnology Changes our Future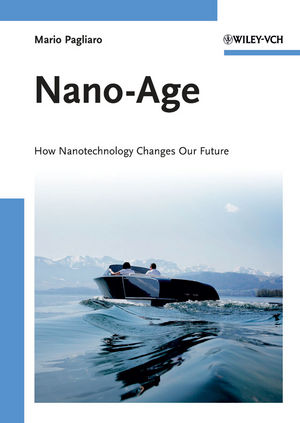 Book
by
Mario Pagliaro
Wiley-VCH, Weinheim, 2010
ISBN 9783527326761
The

review
of

Ludovico Cadermartiri

in

Angewandte Chemie


"

The result of Pagliaro's approach is a quite enjoyable book that has the rare gift of genuinely




conveying enthusiasm

".

The review of

Alison Anderson

in

Applied Organometallics Chemistry

.
"

Overall,... this is a well-written book which provides a useful, interesting overview and commentary on the field

".

The brief review of Itza Montforte.
"

Es una lectura informativa. Está dirigida a la gente que quiere saber más de las tecnologías futurísticas que podrían alterar drásticamente nuestro modo de vida en unos cuantos años

".

The review at Goodreads.com
"

This was a very informative read... I especially enjoyed the last chapter dealing with the nexus of science and culture

".

Synopsis
Is the nano-age here to stay or will a bubble soon burst? This thought-provoking page-turner takes a critical glance at how nanotechnology has affected virtually all areas of our lives. From the pharmaceutical industry to energy production and storage, many fields have been truly revolutionized during the nano-age. This book explores the topic in nine entertaining chapters.
Capturing Sun's Energy

Solar Power. Now
Never Trust the Skeptics
Solar Power for the Masses
Why Nanoscience is Relevant to the Solar Energy Industry
Expanding the Solar Business
Solar Hydrogen from Water
References

From Chemistry to Nanochemistry

Why Small is Different
Nanochemistry
The Chemical Approach to Nanotechnology
An Insight into Chemical Methodology
Making Nanomaterials
References

Storing and Supplying Clean Energy

Ending the Era of the Internal Combustion Engine
Nanotechnology-Based Batteries
Biological Fuel Cells
Fuel Cells for the People
References

Catalysis: Greening The Chemical Industry

Pharma: An Industry to be Cleaned Up
Sol-Gel Catalysts: Philosopher's Stones
Biogels: Marriage of Glass and Life
Nanocatalysts: Abating Polluting Emissions
References

Organically Doped Metals

A Watershed Development in Science
The New Reactivity of Metal-Entrapped Molecules
Two-for-One-Catalyst
Chiral Metals
References

Protecting our Goods and Saving Energy

Multifunctional Nanocoatings
Multifunctional Textiles
Protecting Cultural Heritage
Protecting Goods from Light
References

Better Medicine Through Nanochemistry

Nanomedicine Hemostasis: Change in Surgery and Emergency Medicine
Biogels: Biotechnology Made Possible
Small is Beautiful? Nanotech Cosmetics
Nanotechnology in Orthopedics
A Hybrid, Welcome Science
References

Getting There Cleanly

Sustainable Nanotechnology
Regulating Nanomaterials
Greening Nanomaterials
Communicating the Nanotech Risk

Managing The (Nano)Innovation

Scholars, and not Researchers
Renewing Scientific and Management Education
The Nexus Science
In Praise of Scientific Culture
Communicating Nanochemistry

Table of Contents