Glycerol: The Renewable Platform Chemical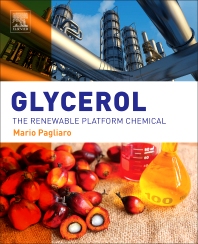 Elsevier (2017)
Preface of Franck Dumeignil
Paperback ISBN: 9780128122051
eBook ISBN: 9780128123331
Page Count: 154
Heavily illustrated in color

Description
Glycerol: The Renewable Platform Chemical
provides a valuable overview of the glycerol market, including industrial applications and sustainable production of glycerol.
The book describes glycerol, also known as glycerine, and its chemical derivatives, especially the new bioglycerol-derived products.
The monograph also discusses how the industrial use of glycerol as raw material for producing commodity chemicals depends on broader scope and lower cost of the catalytic process used to convert glycerol of varying purity grades into valued monomers.
The book features new processes, such as low cost and biocompatible glycerol polymers as a major alternative to the conventional polymers, with the first practical applications now emerging in the biomedical and patient care markets. It includes new chapters on the glycerol market, glycerol polymers, the use of glycerol in the cement and construction industries, its use an antifreeze, and its sustainable production
Readership
Research chemists and chemical engineers, R&D and general managers in the chemical, oleochemical, biodiesel, biotechnology and cement industries. Students and scholars in the academia.
Table of Contents
Properties, Applications, History, and Market

C3-Monomers
Esters, Ethers, Polyglycerols, and Polyesters

Antifreeze and Multipurpose Cement Aid

Glycerol: A Key Platform Chemical of the Forthcoming Bioeconomy

---
Back to the home page of Mario Pagliaro's Books